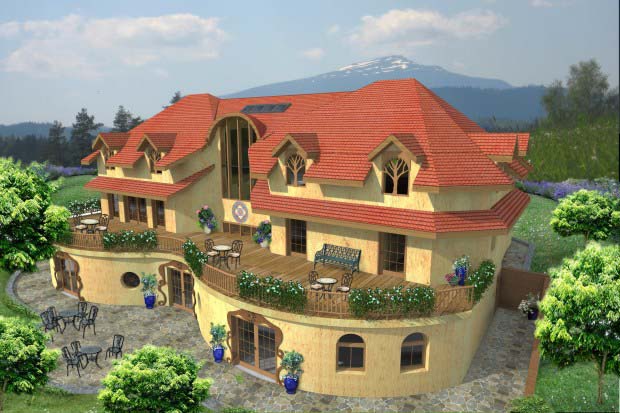 It is with great joy that we announce that the construction of the Centre of Light at Ecovillage Bhrugu Aranya in Poland has begun! Help us create a sustainable healing center for all of Europe and beyond! The Centre of Light represents a new phase in the development and expansionof Ecovillage Bhrugu Aranya, as this powerful energetic point becomes an international hub for people to come experience and learn about sustainable ways of living and healing our planThe Centre is being built with innovative ecological materials like wood, straw and clay. Building with natural clay, woodchips and straw creates a living, breathing building with a healing atmosphere our guests can enjoy! All locally sourced, we are even using the clay from the foundation excavation for the infill of the walls and plastering.
After initial construction of the foundation and skeletal structure, we will be holding clay building eco workshops for participants who wish to learn more about this revolutionary sustainable way of building. Get your hands dirty and join us as we fill our walls with woodchip clay mixture and plaster the organic surfaces with our own clay mixes!
Once this organic, ecological structure is complete, the Centre of Light seminar house will be capable of housing 36 guests. On the ground floor we'll have a full service vegetarian organic kitchen and cafe. Next to the dining area will be a dedicated arts studio for working with all creative mediums including painting, mandala art therapy, pottery and sculpture. In addition, the ground floor will feature therapy rooms and sauna/ steam room.
The second floor will feature a dedicated octagon shaped seminar hall adjoining a large patio where we can offer events and workshops. The neighbouring octagon wing of the second floor will house 4 guest rooms capable of housing up to three people each with private bathrooms.
On the 3rd floor there will be 8 fully equipped guestrooms with panoramic views of the Tatra Mountains, surrounding forests and our beautiful organic vegetable and medicinal herb gardens.